What is DeskTask?
DeskTask connects to Microsoft Outlook and displays your calendar appointments, task items and flagged e-mails on the desktop automatically updating itself to display the latest information.
Your appointments will always be visible, saving precious time to launch or switch to Outlook
To see what are the items due for today or tomorrow you just need to reveal your desktop.
DeskTask displays the whole week so you can be prepared to organize your work. (DeskTask can display up to 3 months of upcoming appointments!)
A wide range of display options including what tasks to include, filter by category and a lot more.
Besides the calendar items, Outlook Tasks and flagged e-mails from your Inbox can also be displayed.
As a time saver, clicking on an item can optionally open it in Outlook
Additionally, Outlook items can also be shown in the tray menu
DeskTask supports all modern Windows editions and all Office versions since Office 2000! If you work with the Outlook calendar, DeskTask is for you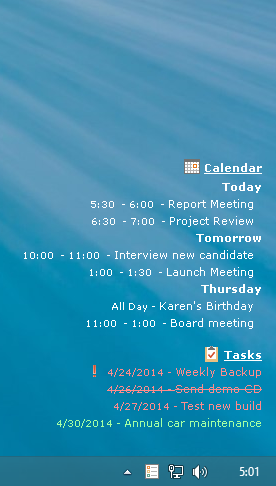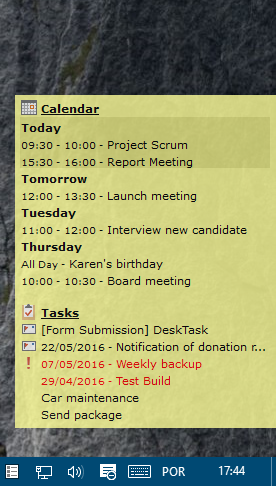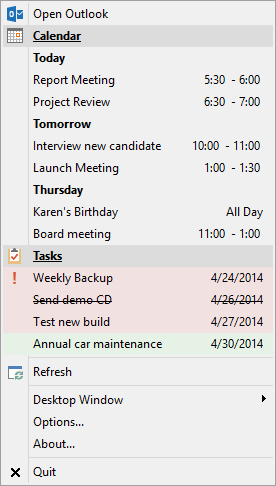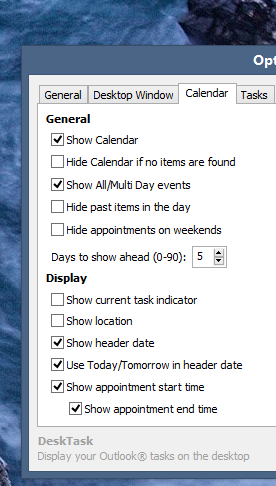 If you have errors like
The specified module could not be found
at startup please read the
Frequently Asked Questions
, you might have a damaged Outlook installation
Version History
Version 1.61 SR1 - Released on 23 April 2018
Version 1.61
Added an option to show countdown (in days) to the header date
Reorganized some options
Minor bug fixes
Microsoft, Windows and Outlook are registered trademarks of Microsoft Corporation. Microsoft Corporation in no way endorses or is affiliated with Carthago Software. All other trademarks are the sole property of their respective owners.
Download

DeskTask 1.61 SR1
Requirements
Microsoft Windows 11 / 10 / 8.x / 7 / Vista / XP / 2000
Microsoft Outlook installed (Office 2000 or later)
Only English based Outlook versions are supported. Regional versions of Outlook may or may not be compatible with DeskTask. DeskTask was only developed and tested on English-American versions of Outlook.
License
DeskTask is freeware. It can be freely used and distributed in commercial and private environments but is subject to the terms and conditions of the license agreement.
If you find this program useful, please consider
making a donation
. A donation would not only demonstrate your appreciation for this software, but also help and encourage future developments.
DeskTask has to be one of the best pieces of software I have seen in years. Simplicity and functionality in such an elegant package is rare indeed. Keep up the great work! Mark Allshouse